CUC Balonne announces recipients of laptops at Open Door Day
21 Jul 2021
CUC Balonne announced the recipients of the Get Inspired Student Packs at their Open Door Day on Saturday 3 July 2021.
Get Inspired Student Packs applications were open to local tertiary and high school students who needed to write 100 words explaining how a laptop would help them succeed in their studies.
The tertiary student recipients were Kellie Davis and Casey Smith and high school recipients were Lily Brimblecomb and Heather Wilesmith.
The students were all thrilled to receive the packs which included refurbished laptops donated by NBN Co.
Bachelor of Early Education student Kellie Davis said, "Having the opportunity to receive a laptop assists in alleviating one of the biggest pressures when studying online."
Casey Smith is currently studying a Bachelor of Midwifery through the Australian Catholic University. She said the laptop will help her stay on top of her studies when she must travel onto campus and for future practice placements.
Lily Brimblecomb and Heather Wilesmith while still at high school both plan on pursuing higher education once graduating from year 12 and have expressed a weight being lifted knowing they would have the technology to get started.
CUC Balonne Centre Manager Alix Greenhill said, "Congratulations to the students who received the CUC Balonne Get Inspired Student Packs. Thank you everyone who came into the Centre during Saturday's event. It was great to see so many out to support the Centre. I look forward to getting information out to students in Dirranbandi at our Open Evening at 5:30pm on Tuesday, 20 July."
CUC Balonne has had a successful start with 26 students registered with the Centre this year.
The CUC Balonne is supported by the Commonwealth Government under the Regional University Centre Program alongside key local support, including the Balonne Shire Council.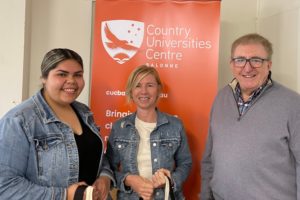 Laptop recipients Casey Smith and Kellie Davis with Matthew Magin Chair of CUC Balonne.
CUC Balonne Open Day Recap
Watch our CUC open day video and check out how the day went down.
Want to find out more about registering with CUC Balonne?
Come into your local Country Universities Centre and speak to our staff who will provide advice on what course and university is right for you. Further information is available from CUC Manager Alix Greenhill on 0409 446 421 or email alix.greenhill@cucbalonne.edu.au.
To register your interest in joining your local CUC please click here.