CUC Balonne is throwing open its doors to the community
09 Jun 2021
Now officially open for learning, Country Universities Centre Balonne is inviting all community members to see at the Shire's first dedicated facility for rural and remote tertiary students.
CUC Balonne is hosting an Open Door Day on Saturday 3 July to share its mission and facilities with current students, those thinking about future study, and the Balonne Shire community at large.
The Open Door Day will be an occasion for everyone see what is available in the Centre and meet local students, the centre manager, and CUC Balonne board.
CUC Balonne Board Chair Matthew Magin said, the Open Door Day is a significant milestone for the Centre, and for the national network of CUCs.

The opening of CUC Balonne represents a new chapter for the Balonne Shire community. For the first time, local people who want to undertake tertiary studies won't have to leave home, and will have equal access to in-person support services which are normally only available on a campus.

Our Open Door Day affords everyone the opportunity to experience first-hand the fantastic study environment that has been created to enhance and enable individuals' study journeys.

CUC Balonne will also be supporting those undertaking Vocational Education Training (VET) apprenticeships and traineeships, which is a first for any CUC.I encourage everyone to drop into CUC Balonne and register their interest, should they be interested in future study.
In celebration of its opening, CUC Balonne is proudly offering an exciting opportunity for four tertiary education students to receive a: A Get Inspired Student Pack complete with a refurbished laptop, courtesy of NBN Co. Recipients will be announced at the Open Door Day.
NBN Co. has generously donated 10 refurbished laptops to CUC Balonne, with the remainder retained for use at the Centres in St George and Dirranbandi.
CUC Balonne Centre Manager Alix Greenhill is enthusiastic about opening the doors to everyone in the Shire and said there are more exciting developments in the pipeline.
Our Open Door Day will be a fantastic occasion to announce the recipients of the laptops kindly donated by NBN Co. I sincerely thank them for their support.

I look forward to showcasing the great student spaces and incredible technology we have – even in our current temporary space. By next year, we will be set up in the brand new $6 million St George Library Hub.
Established to provide students with quality educational opportunities and the ability to succeed in study without relocating, CUC Balonne is a dedicated study and learning space equipped with modern technology where students can receive comprehensive support from a local team.
CUC Balonne is supported by the Australian Government under the Regional University Centres Program with additional support from Balonne Shire Council.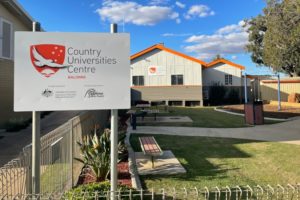 For more information, contact:
Alix Greenhill, CUC Balonne Centre Manager
M: 0409 446 421
E: alix.greenhill@cucbalonne.edu.au